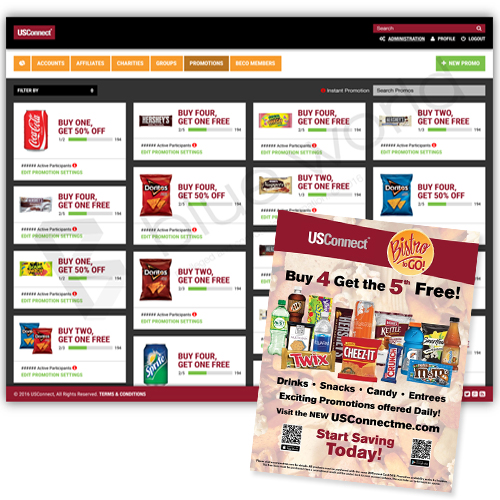 The USConnectMe Loyalty and Rewards Program gives you access to exclusive promotions on the items you purchase every day. Some of the benefits you will enjoy include the following:
special offers and promotions on snacks, beverages, and food in our vending machines and Bistro to Go!™ Markets
earn reward points for every dollar spent
the convenience of the USConnectMe

app, and the opportunity to use your account at any USConnect-enabled points of sale on campus and nationwide
the opportunity to preload a balance onto your USConnectMe account (Our cashless payment system accepts debit and credit cards in addition to prepaid USConnectMe

cards and payments through our mobile app.)
manufacturer promotions
1.5% of

USConnect®

loyalty

sales are donated to your charity of choice

the ability to easily keep track of points and available offers online and via our mobile app (Employees can view transaction history and reward point balances, as well as redeeming loyalty points and accessing instant promotions.)
USConnectMe's Loyalty and Rewards Program is a feature-rich program designed to delight and reward employees on a daily basis. Learn more about the USConnectMe Program at www.usconnectme.com.